Best known in the U.S. for their 1985 number one hit "Don't You (Forget About Me)" from the film The Breakfast Club, Scotland's Simple Minds evolved from a post-punk art rock band influenced by Roxy Music into a grand, epic-sounding pop band along the lines of U2. The band grew out of a Glasgow punk group called Johnny and the Self-Abusers, which featured guitarist Charlie Burchill and lead singer Jim Kerr. The inaugural 1978 lineup of Simple Minds featured a rhythm section of Tony Donald on bass and Brian McGee on drums, plus keyboardist Mick McNeil; Donald was soon replaced by Derek Forbes.
Their early albums leapt from one style to another, with Life in a Day consisting mostly of dense, arty pop songs; critical acclaim followed the darker, more experimental art rock of Reel to Real Cacophony and the Euro-disco of Empires and Dance. The group began a transition to a more accessible pop style with the albums Sons and Fascination and Sister Feelings Call, originally issued together and subsequently split up. New Gold Dream (81-82-83-84) became their first chart album in the U.S., and the tour-shy McGee quit (owing to the group's burgeoning popularity), eventually being replaced by Mel Gaynor. Following the Steve Lillywhite-produced Sparkle in the Rain, Jim Kerr married Pretenders lead singer Chrissie Hynde (the two groups had toured together).
After Bryan Ferry rejected the opportunity to sing "Don't You (Forget About Me)," Simple Minds almost did so as well; Kerr was dissatisfied with the song's lyrics, which he regarded as formulaic. His change of heart gave Simple Minds their only American chart-topper, and the song later became an international hit as well; however, Kerr's feelings about the song remained ambivalent, and it did not appear on the follow-up album, Once Upon a Time. The album went gold and reached the U.S. Top Ten in spite of criticism for its bombastic, over the top approach. A live album and the uncompromisingly political Street Fighting Years squandered Simple Minds' commercial momentum, however. By the time the group returned to more personal themes and its straightforward, anthemic rock on 1991's Real Life, personnel changes and audience loss left the group's future viability in doub
They weren't totally deterred, however. Kerr and Burchill trudged on, releasing Good News from the Next World in 1995, while the single "She's a River" received moderate airplay. A short tour of North America soon followed, but Simple Minds' direction also quickly faded. They needed a break to clarify their own personal stance in music. Derek Forbes returned for 1998's Néapolis, but that, too, wasn't strong enough to sustain Simple Minds' newfound creativity. Their famed pop songs had been diluted a bit; however, the new millennium proved poignant. Jim Kerr and Charlie Burchill signed to Eagle Records in early 2001 and constructed their first covers album, Neon Lights, later that fall, paying tribute to Patti Smith, Neil Young, David Bowie, and others. In summer 2002, Kerr and Burchill issued Cry, Simple Minds' first batch of new material since 1995's Good News from the Next World. Our Secrets Are the Same, an album that was intended for release in 2000, saw official release in 2003.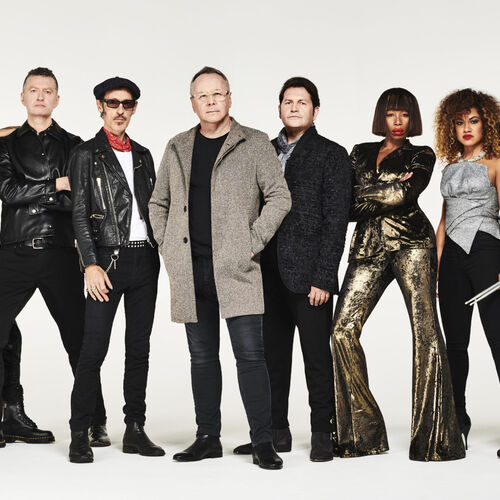 An extensive reissue program and live recordings followed. Black & White, a new studio album, appeared in 2005, and the charting Graffiti Soul (which saw the return of original drummer Mel Gaynor to the fold) arrived in 2009. Simple Minds accepted a spot at London's iTunes Festival that year and issued a digital EP of their performance. After a global tour, Simple Minds returned with Big Music in 2014, an album that included two songs co-written with Chvrches' Iain Cook. A stripped-down set called Acoustic arrived in late 2016, featuring acoustic reworkings of many of the band's hits. In 2018, the band released its 18th studio long-player, Walk Between Worlds. Co-produced by the band with Andy Wright and Gavin Goldberg (both of whom had worked on Big Music), the album contained two distinct "sides": The first half revisited the glassy guitars and new wave dance grooves of the post-punk era that signified the band's earliest records, while the second explored more cinematic sounds reflected best in the title track and "Barrowland Star," which were both completely orchestrated at Abbey Road. The concert album Live in the City of Angels landed the following year alongside a comprehensive compilation of hits, The Best of 1979-2019, which included a cover of King Creosote's "For One Night Only."